Alabama wrote its 1901 constitution to "establish white supremacy." Workers in a majority-black city say it's Jim Crow all over again.
Monday, October 23, 2017
Labor day in Birmingham, Ala., dawned hot and humid—a day for a barbeque or a picnic. But the 100-strong group that gathered in the Five Points West shopping center September 4 had other plans.
As the sun reached its peak, dozens of people wearing "Fight for 15" shirts emblazoned with a raised fist punching through Alabama spilled out of white vans onto the hot asphalt of the parking lot. They stood in small groups, taking selfies and smoking cigarettes. Children held their parents' hands
Then Mark Myles, a barrel-chested Fight for $15 organizer with a penchant for doling out hugs, got on a bullhorn. "We are the workers!" he shouted. The crowd enthusiastically echoed him. "The mighty, mighty workers. We're here for $15—$15 and a union!"
The group marched off to its first destination: McDonald's. Under the close watch of a handful of police officers and suited-up McDonald's managers, the crowd gathered in the drive-through lane, joyously shutting it down. "We came to order a raise!" a woman yelled on the bullhorn. Passing cars honked in support. Then the protesters moved on to march through a nearby Burger King and a Popeye's, shouting slogans and throwing their fists in the air.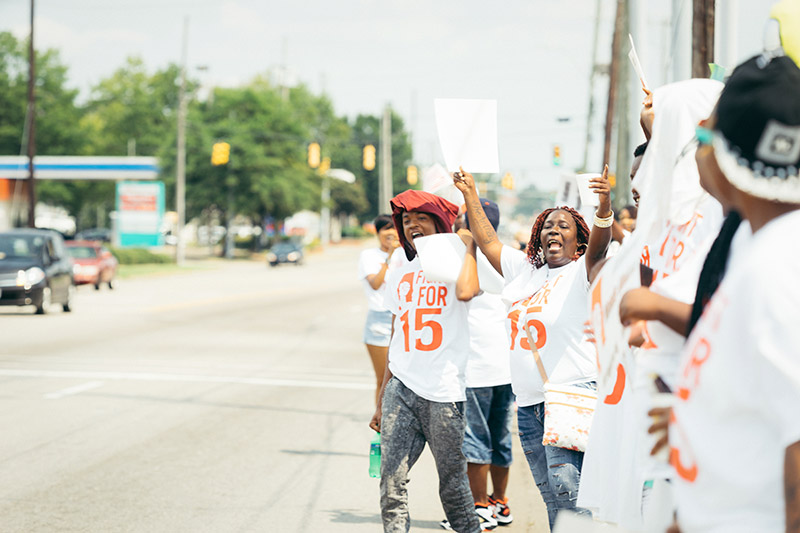 ---
On September 4, workers with Fight for $15 in Birmingham rally—again—for a $10.10 wage floor, after the victory was snatched from them by the state. (Photo by Lynsey Weatherspoon)
The day was about demanding higher pay, but politics intermingled with economics. "This is what democracy looks like," a speaker declared over the bullhorn. "Local governance is very important to your fight." People with clipboards roamed the crowd looking to update voter registrations.
Just two years ago, these Fight for $15 workers and their allies won a minimum wage increase to $10.10 in Birmingham. It was short-lived. State lawmakers intervened before the law took effect, passing a preemption bill that undid the work of the City Council and the will of its constituents. Since Alabama doesn't even have its own minimum wage, minimum-wage workers still make the federal wage of just $7.25 an hour.
"We want $10.10, we gonna do it again," the crowd chanted.
The workers are using protests to pressure corporate employers and state legislators to raise their pay. But they're not counting on it happening voluntarily. On April 28, 2016, workers in Birmingham filed a lawsuit accusing the state of racial animus and violating the U.S. Constitution's 14th Amendment guarantee of equal protection.
The lawsuit offers a novel approach in a struggle taking place across the country as blue cities battle red states for self-determination. Republicans often extoll the virtue of local governmental control, but not, it seems, when it comes to progressive change.